Our Advantages Are Clear!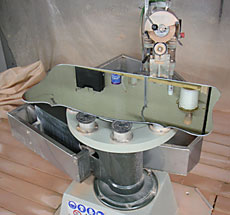 Indiana Bevel specializes in beveled glass and mirror, in all shapes and sizes. We're the only company in the state of Indiana that can bevel shapes… we can do any shape. Whether you need one piece or a large quantity, for residential use or commercial, turn to Indiana Bevel. We are a leading supplier of glass to the trades for:
Table Tops
Heavy Glass Shower Door Enclosures
Desktops
Doors
Custom Architectural Features
Shelving/ Plate Grooving
Replacement Windows
Etched Glass and Awards
Kitchen Cabinets/V-Grooving
Furniture
Glass Art
Clock Faces

Our mirrors can be custom beveled and sized for:
Bathrooms
Vanities
Furniture
Dance Studios
Gyms and Workout Facilities
Rehabilitation Facilities
Decorative Accessories
Call us at (317) 596-0001 for a FREE estimate today.
Glass pick-up and delivery available!